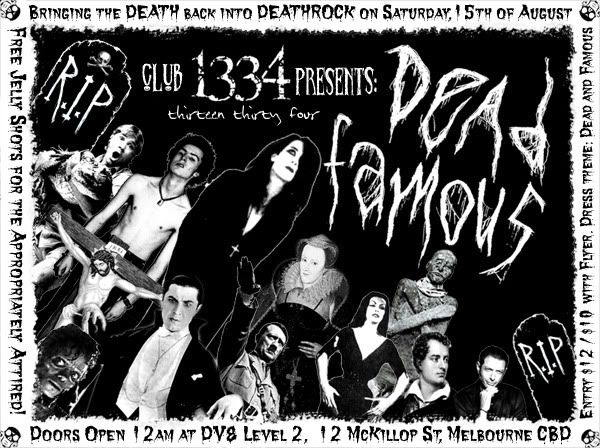 As a deathrock-oriented club named after a somewhat well-known dead guy, it's about time we threw a theme night celebrating all that is dead and famous...
So join us on Saturday, 15th of August at DV8 Level 2 dressed as your favourite dead person. Recently deceased celebrities or historical figures, anything goes as long as we know their name and they're d-d-d-d-dead and buried... Bonus points if you include the cause of death in the costume
And to reward you for your efforts there will be FREE JELLY SHOTS for everyone dressed to the theme, so you'd better get cracking on your nooses and stingrays!
Doors open 12am @ DV8 Level 2
12 McKillop St, Melbourne
Entry $12 / $10 with flyer
Cicero wrote:
Quite a few people are aware of this already but 1334 will be coming to an end soon. Bat Brains and I have had a fantastic time running it these last few months, however London has called and it wants us there!

So the 12th of September will be our final night, and in the meantime you can still get a taste of 1334 goodness at Dead Famous.